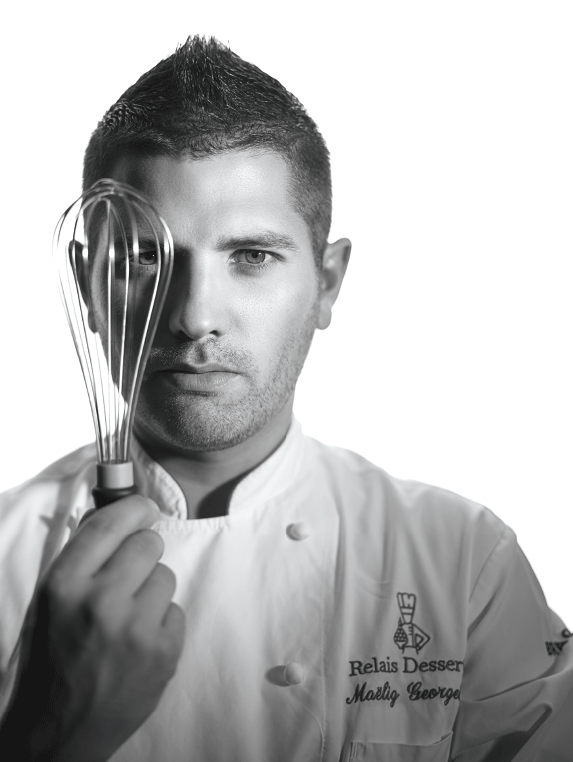 CHEF MAËLIG GEORGELIN
AU PETIT PRINCE
Relais Desserts International
His investment has made the magic happen.
Maëlig Georgelin, Breton born and bred, is a creative young pastry chef recognised by his peers. Already with a fine career behind him, he has worked at famous establishments such as the Château de Courcelles or the Hotel les Trois Vallées in Courchevel, and has trained with the greatest. His pastry and chocolate skills have taken him all around the world; London, Saint Barthélemy, Japan, etc.
Returning to Brittany in 2009, he realised his dream by opening his first boutique 'Au Petit Prince' (Maëlig in Breton). Success soon followed; distinguished and rewarded for his creativity, he joined the highly prestigious Relais Desserts International at only 29 years old.
He made a couple of appearances on television in 2018 and 2019 as a judge on the programme 'Le Meilleur Pâtissier' alongside Cyril Lignac. He received even more media coverage when he and his team won the professional version of the show in 2019, judged and complimented by Pierre Hermé, among others.
Rigorous and hard-working, Mäelig is recognisable by his creativity and joviality. He accepted the De Paris à Brest challenge with great enthusiasm, instantly understanding what was at stake for restaurant owners.
"I accepted the De Paris à Brest challenge because it's fun and different from what you see elsewhere. I wanted to be part of this project, to get fully involved and create new desserts based on partners' products to offer an attractive, creative, different and original menu!".